How I Pretend to be Organized
This Post May Contain Affiliate Links. Please Read Our Disclosure Policy
I'm not proud to admit this, but I'm not very organized. If you look in my garage, basement, attic, closets, or almost ANY drawer in my house, you might think I should be on an episode of Hoarders. Okay, okay, maybe it's not that severe, but it's still pretty bad.
I guess we all have weaknesses. Getting and staying organized is one of mine. Mostly it's the latter half of that phrase, the STAYING organized part. I actually enjoy cleaning out drawers and throwing things away. It's keeping things neat and orderly that I struggle with.
As you might recall, I teamed up with some blogger friends to share 10 Minute Decorating ideas. (You can find more posts in this series here.) The theme for this month is organization. I have been in a bit of panic the past few days trying to come up with an idea (Yes, I'm really good at procrastinating, too.), and I'm still drawing a blank. Organization just isn't my game, and I'm totally owning that.
It is, however, something I'd like to get better at. I even went so far as to download the trendy new book on the subject: The Life-Changing Magic of Tidying Up. (Oh, and if you've read it, please share your thoughts about the book in the comments.) I'm convinced that being organized and tidy can make a huge difference in increasing happiness and decreasing stress.
So, with all of that being said, I'd like to share a few quick tricks that I use in my ongoing efforts to stay organized. Even though I'm not a super organized person, I thought they might help you, too
Pegboards for the win
One of my favorite organizing tools is the pegboard I installed in my kitchen last year. While hanging a pegboard may take a little longer than 10 minutes, I promise it won't take more than a half hour.


Whether you install something a pegboard in your kitchen, garage, or closet, it's an ingenious way to store tools. Why? Because when you give something a specific place, putting it back where it belongs is really easy (no mental energy required).
I kid you not, my pegboard organizer always looks perfect since everything has a place.
Managed Magazines
Another area of my home that stays fairly organized is the shelving unit in my living room – more specifically, the shelves where I have my magazines.
Like many people, I have a hard time discarding magazines. I had boxes of them in the basement, plus others scattered around the house. Now, other than the newest magazines I'm reading, I have shelves in my living room set aside for each magazine I read regularly. I allow myself seven different subscriptions. The magazines are organized by title (with one stack for other magazines that I buy on occasion or randomly receive). I only keep 12 issues (one year) of each. When a new one goes on the stack, an old one gets tossed.
Don't get me wrong, my magazine-loving heart still struggles to throw one away, but this system makes it much easier. No excuses.
Clever Clipboards
While I haven't nailed down the art of organizing bills and paperwork, I really do love the clipboard wall in my office. It's my go-to storage for important paperwork, lists, and other documents.
Anything I need to access quickly goes up there. I also like making lists, so I have plenty of notepads full of ideas, project deadlines, etc. If you have the room, I highly recommend something like this for your office area. Hanging the clipboards up with just a nail is a breeze and will take mere minutes. Once, they are hung, you're ready to go. Of course, you can make this more organized by assigning different clipboards to different family members, activities, or whatever. Use a system that works for you and gives things a place.
Hide It
As you can tell by the ideas above, my organization solutions typically stem from aesthetic considerations first and organization needs second. While this may sound backwards, it works for me and how I want my spaces to look. What I have found over the years, though, is that having some hidden storage is just as important as displaying things. Some things just aren't pretty and need to be tucked in a drawer.
While I realize my style isn't minimal, I prefer having certain things out of sight. That's why my office contains a mix of open storage (my shelves) and closed storage (dresser and filling cabinet). Just be careful here. (Note to self.) I tend to go through my closed storage pieces at least twice a year to clean up and clear out. As I confessed earlier, they can quickly become junk collections.
I think that's about all the organization I can handle for one day. Ha!
I hope these four ideas inspire your organizing efforts. What's your best home organization tip or trick? Let me know in the comments. I need your suggestions.
For more in the 10 Minute Decorating series check out the links below:
Four Generation, One Roof – Jewelry Organization
Julie Blanner – Simple Organization Ideas
Dream Green DIY – How to Tidy Your Sock Drawer
Thistlewood Farms – Stylish Organizing Ideas
Finding Home – Pool Organization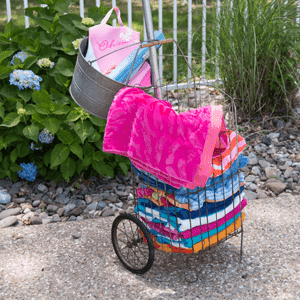 ?