Thank you so much for joining me for Thrifty Thursdays! Week Three of Inspired by Charm's link party!
Thifty Thursdays is every Thursday starting at 7pm until Sunday at 10pm EST.
As i mentioned yesterday I was a ginormous slacker in regards to being thrifty this week. Though, while I was creating a winter wonderland in my little shoppe, I did do at least one thing thrifty. The picture above is a tree. For the garland/ribbon, i cut strips of burlap i had on hand and wrapped them around the tree. Instant and free tree trimmings! That counts, right?
I also wanted to recap some of my favorites from last week's Thrifty Thursdays.
First, speaking of burlap, I loved WhisperWood Cottage's Burlap Pillow.
To cute, right!? Simple, crafty and beautiful!
I also love the piano bench makeover from Foreign Domestic.
I'm always amazed at what a fresh coat of paint and some fabric can do! Super cute!
And last but night least check out this bathroom overhaul from 1829 Farmhouse.
I mean come on! The vintage sink, the sliding door, the artwork, the lighting… to. die. for.
Thanks to everyone for partying along! And if your blog was featured don't forget to grab a button!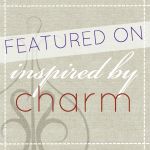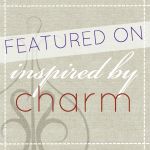 This week you are welcome to link up any thrifty finds, creations, ideas, etc! As long as it's thrifty, it goes! I'm thinking about adding a 'theme' to next week's party, so stayed tuned for those details.

Alrighty, now it's your turn to share….
but first a couple small guidelines:
Be sure to link up thrifty projects only.

Pretty, pretty please link back to this party on your post with a link or a button (available in the sidebar).

And, since i get excited with fun new projects, know that i may share your project here at inspired by charm.
That's it! Pretty simple.
And you are more then welcome to follow me at any of the links below for highlights from the party throughout the weekend!


Have fun! Thanks again for joining the party!