first things first. a big, huge thanks for all the wonderfully kind comments on my oar art. i really appreciate your amazingly sweet words. i felt a sense of accomplishment when i completed them but i'm feeling it even more so after all your thoughtful comments.
second, a huge thanks to the genius mind behind the blog 'better after'. my oars were featured on the site yesterday and i couldn't be more excited! i have been following 'better after' for quite some time and was always amazed at the genious ideas people come up with. it's an honor to be amoung them. so, thanks!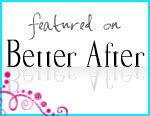 and finally welcome to everyone that found there way to my blog recently. i really, really appreciate your comments and support. thanks for reading and stop back anytime.
happy friday everyone!
***UPDATE
oh! and one more 'thank you.' have you been over to the blog life in the fun lane? if not as soon as you finish reading this head over there! holly is an amazingly talented gal that takes the most horrid looking furniture and turns it into something you'd see in a magazine.
anyway she recently started this new feature called fresh coat fridays and she was thoughtful enough to include my oars in her post this week. thanks holly!!