Fun, Festive, and Flocked Christmas Tree
This Post May Contain Affiliate Links. Please Read Our Disclosure Policy
Hope you are having the happiest of holiday seasons. Today I'm sharing my flocked Christmas tree!Welcome back to the 12 Days of Christmas here on Inspired by Charm! In case you missed the start of this holly jolly series, you can click here for Day 1: Holiday Home Tour.
For Day 2, I'm so thrilled to be back today to give you a closer look at the Fun, Festive, and Flocked Christmas Tree in my office. While you got a little peek at it yesterday, you didn't get the full experience of this tree, so that's what I wanted to share today. Plus, I'm going to pass along some of my tree trimming tricks. Let's get to it.
Colorful and Whimsical Flocked Christmas Tree:
As you may have noticed, flocked Christmas trees have become increasingly popular in recent years. It's easy to see why. You get the look of a Christmas tree (obviously), but it also has a magical snowy white glow. Plus, flocking on a pre-lit tree covers the lights, making them and the wires almost undetectable when it's not lit. It's genius.
What is a Flocked Christmas Tree?
This year, I decided to invest in a quality flocked tree. This is the Flocked Artificial Christmas Tree from Lowe's. I saw it in-store around Halloween, and then when Lowe's asked me to decorate a tree for them, I knew this was the one I had to get. (It also has a surprise feature, but we'll get to that in a second.)
A flocked Christmas tree is just an artificial tree (though you can get real tree that has been flocked) that has been sprated with a substance to make it look white and snowy.
Once I had the tree set up, I added colorful plaid ribbon. A couple tips about ribbon: First, get more yardage than you think you'll need. For this tree, I used about 25 yards. Second, start at the top and let the ribbon flow as you work it down and around the tree. In some spots, tuck it in, and in other places, let it billow out. Twist the ribbon as you work around the tree to give it some dimension. Work in a pattern around the tree, but let the ribbon do its thing. This will give you a much more natural look rather than having horizontal stripes across your tree.
For ornaments, I began with the beautiful collection of faceted ornaments from Lowe's (they are not longer available.)
However, you can find the red truck ornament here.
With those ornaments on the tree, I pulled inspiration from the ribbon and my office space to fill the tree with beautiful color. I'm a fan of glass ornaments, and Lowe's has almost any color you could want. From their Holiday Living collection, I ended up using the Pink Ball Ornament Set, Blue Ball Ornament Set, Green Ball Ornament Set, and Red Ball Ornament Set. For a tree this size, I used three packs of each color.
I finished things off by adding a few ornaments from my personal collection and a felted ball garland.
Once again, that adorable red truck ornament can be found here.
To say I'm in love with this tree would be an understatement.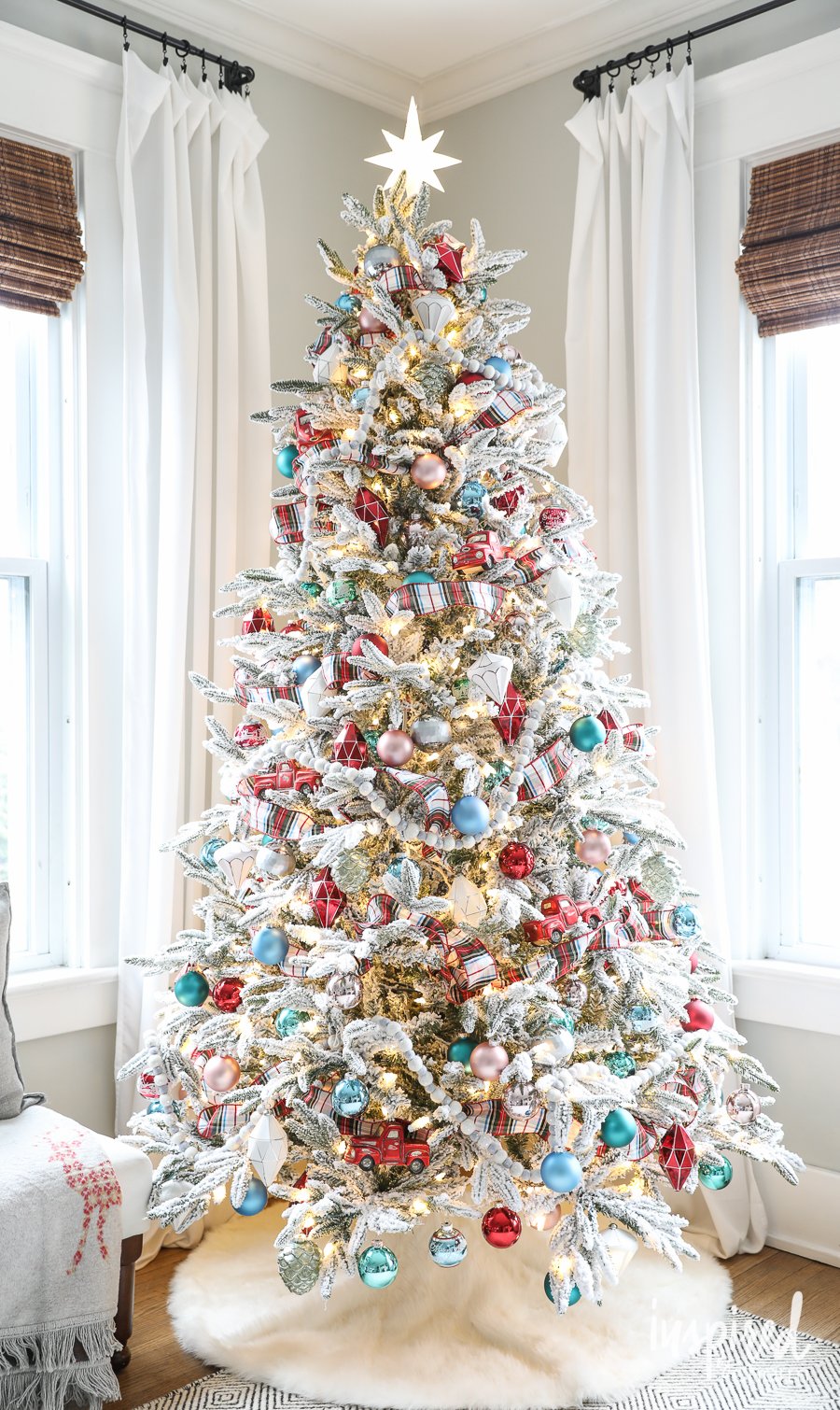 I also picked up a few other items at Lowe's to decorate the rest of my space, Including these Holiday Living Tabletop Trees (two small and one large) and this Holiday Living Pink Mercury Ornament Set.
Okay, so we covered festive and flocked. What about the fun? Are you ready?
Tada!
This tree has color changing LED lights! Surprise! It goes from warm white to multi-colored with a click of a button.
Even though I'm usually not a fan of colored lights on a tree, there's something about the tone / hue of these lights with these decorations that I'm totally digging.
Let's have a look at that color changing action one more time.
Fun, Festive, and Flocked. Mission accomplished! I hope you enjoyed my flocked Christmas tree!
I'll meet you back here on Monday for Day 3 of the 12 Days of Christmas. I'll be teaching you how to make a beautiful and tasty treat for the holidays, plus I'll be sharing all of the details about those gingerbread house cakes you've seen in my posts.
See you then!