Oh no. Has it really been that long?
Apparently, at the end of February I talked about giving my bedroom a makeover. I could have sworn that I jfirst mentioned it last week. However, truth be told almost five months *gulp* have passed and the thought of making over my bedroom was just that – a thought. That is until a few days ago when I finally took that thought and acted on it.
Now, I wish I could just show you before and after pictures, but real life doesn't move that quickly, or at least I don't. So over the next few weeks a lot will happen in this space. Then, over time, as with my living room / office project, it will grow (hopefully) into something awesome.
Just briefly, my bedroom is actually two small rooms. When the project is complete, one room will be the sleeping area, and one room will be a big walk-in closet. (I'll share more of my plans for the space in another post.) Because I still need a place to lay my head at night and because it's the most disorganized, I decided to start with the closet.
I'm part of the Lowe's Creative Bloggers Team, and I have them to thank for getting this project rolling. This month we were challenged to create some DIY Decor. So for my challenge, I decided to start with new crown molding.
My upstairs is comprised of four rooms. When I bought my home, two of the rooms had the same crown molding, one room had no molding, and another room had completely different molding. For some reason, this drives me insane. The rooms that make up my bedroom are the ones with no crown molding and the completely different molding. Make sense? I decided that the mismatched molding needed to come down; then new molding could go up in each room.
This is where Lowe's came in handy. I went to the store, checked out their moldings,and was thrilled to find one very similar to what is currently in most of my downstairs. Perfect! Since I don't have a truck to haul 12-foot-long pieces of molding, I was able to order it online and have it delivered to my house (for a small fee).
As a reminder, this is what this room looked like before. This is the only photo I could find that shows the old crown molding.
As you can see from this picture, the new molding is a bit deeper. I definitely prefer this style.
I ripped down the old molding with a hammer, crowbar, and screwdriver. I also took down the chair rail which was hung oddly low. I didn't really care for the look of it, plus it had to come down for a future project I'm doing in this space.
With all of the old molding out of the way. I installed the new.
I'm not going to go into all the details of putting up crown molding, but it's pretty easy. You will need a miter saw. A nail gun also helps make things move quickly, but a hammer and finishing nails would work just fine. Since this is a square room, it went pretty fast. One thing I find really helpful when doing molding is to make yourself sample pieces. I learned this trick from my dad.
It can get very confusing which angle, direction, side, etc. to cut you molding. Having sample pieces cut for an inner corner and an outer corner takes so much of the guess work out of the process. Set the sample piece on your miter saw and use them as a guide for how to cut. Trust me. Huge time and mistake saver.
Anyway, after all of that, my new molding was complete.
Because both my ceiling and walls are textured, I had quite a few gaps to fill. Once those where filled and sanded, I patched the holes from the chair molding I removed.
If you want crown molding, it's a totally doable DIY decor project. Just have patience. Also keep in mind that if you're painting your molding, many mistakes can be hidden with a little spackle and sanding.
Now I'm ready for a fresh coat of paint!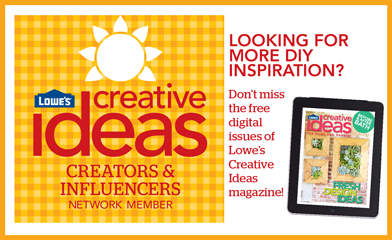 And don't forget, for even more ideas, visit Lowes Creative Ideas. You can also sign up to receive their free Creative Ideas Magazine, which is loaded with inspiration! There's also a magazine app so you can have inspiration on the go! And, don't forget to follow Lowe's on Pinterest or on Instagram!
This post was created as part of my collaboration with the Lowe's Creative Ideas Network (along with some other fantastic bloggers). As always, all of the opinions, thoughts, and ideas in this post are my own.