wow! i'm so floored by the response to thrifty thursdays! thanks to all of those that linked up to the party and for those of you that promised to link up in the future.
i also wanted to send out a ginormous thank you to the queen of junk and new friend, Donna from Funky Junk Interiors. donna is also a writer for FOLK and has quickly become an amazing sounding board, advice giver, and true friend. she even linked up her pallet sofa! you'd be crazy not to check it out.
thanks donna for your continue support, guidance, and encouragement!! thank you!!
some of my other favorites from the party include the anatomy of a thrifty guest cottage from maple & magnolia. her guest room is just gorgeous!
and it even has an old bed and breakfast sign above the bed! love it. i also love her painted suitcases that double as amazing storage. so stylish. so smart.
head on over and drool over the rest of the room. there are even fabric door pulls on one of the dressers!
another favorite was burlaps and denims barrel shade chandelier.
spectacular, right!? now wait till you here this…. she made the shade with a hula hoop and burlap.
i'm amazed. speech. less. wow.
and finally i simply adore the photo display four corners designs made from some rusty old springs.
seriously!? people literally blow. me. away!
and wouldn't it double as the best christmas card holder!? oh my!
ladies, if you'd like you're welcome to steal the bottom below and tell all your friends you were featured on inspired by charm!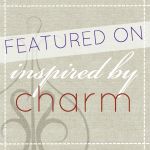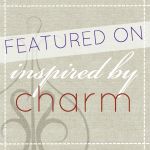 thanks again to everyone else for parting along! join me again this thursday (same time. same place.) for week two of thrifty thursdays!